Access Interview: Pikria Basilidze, Head of PMO in Credo Bank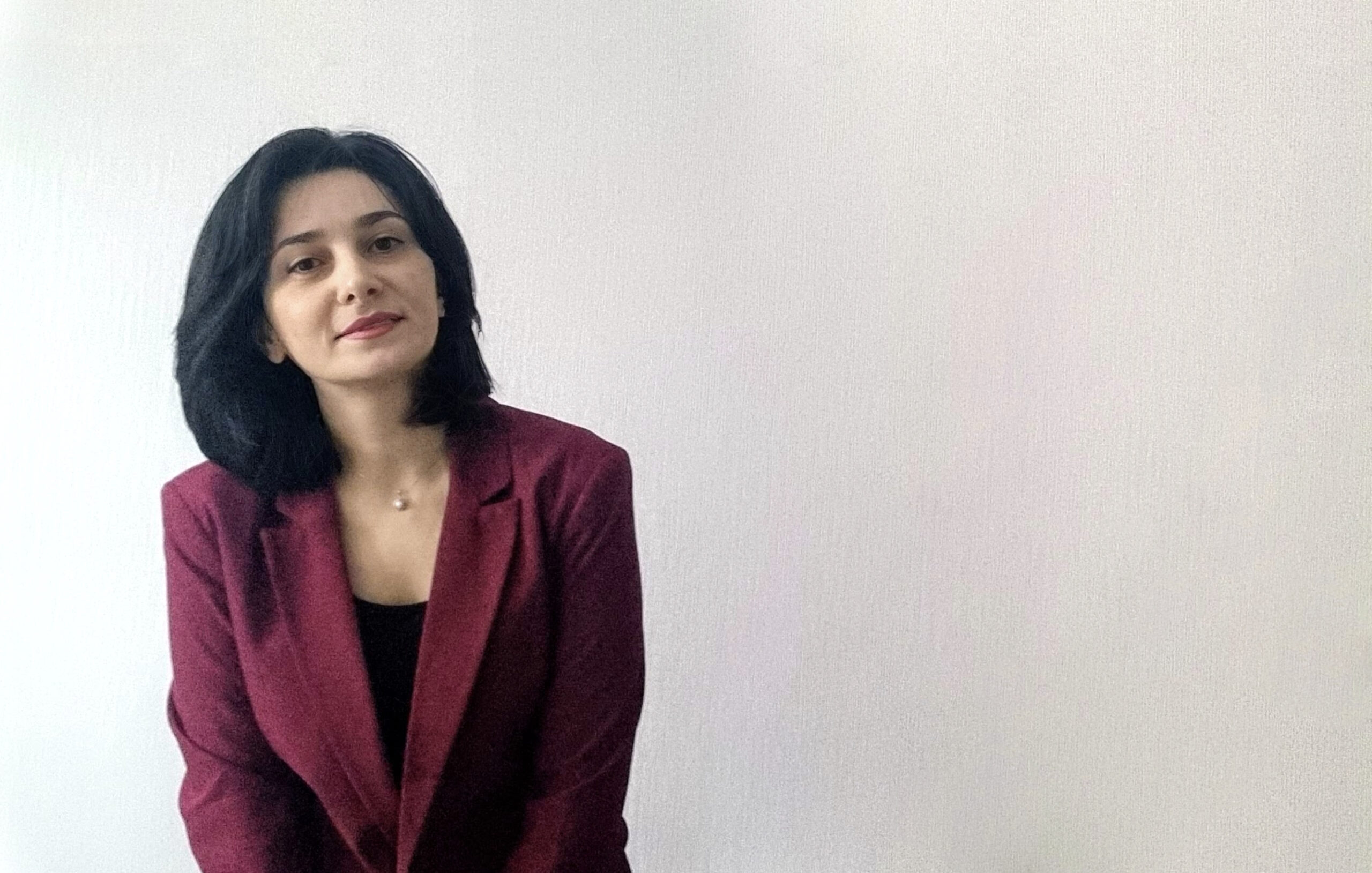 By Ivana Mitrovic
Pikria Basilidze, Certified Project Management Professional, has been Head of the Project Management Office in Credo Bank since 2016. Implemented Project Management PMI standards and Agile methodologies, currently managing a team with eight squads and seven PMs with a portfolio running more than 150 projects/tasks simultaneously.
I like that in Credo we never change anything just for the sake of change – we are responding to needs.
Pikria, during your carrier, you have constantly challenged the status quo by learning new skills, adapting to new situations and improving the environment in which you have worked. Tell us some more about your career that started 18 years ago in Credo – how have you started and developed during all this time?
Even though I was educated as a journalist, I started my career in Credo in 2004 as a branch administrator. Back then, Credo was the World Vision GEF program and was only starting to finance agriculture – a bold move for that period in Georgia soon to became a real success. Credo began to grow quickly, same as our branch. I volunteered to take part in creating procedures, standards, forms,  and when the need for the accountant appeared, I applied. I got the job – I still remember the fear of the first period – thinking that I might miss something. To avoid mistakes and make my daily work manageable, I learned the basics of Visual Basic for Applications and made automated forms. That was when I became "the best employee of the year". Soon I understood that I wanted something new, and I used the first opportunity to discuss my options with my supervisor, the COO (now CEO). I was heard, and not long after, I moved to HO in the IT department in the newly created position of Standardisation and Evaluation Officer. During this period, I used to visit branches, analyse operational processes, find best practices, elaborate standards and implement them, act like a core system service desk, and help units create various reports on demand. I want to outline that I always have been lucky with supervisors – all of them were open-minded, supportive, and I learned a lot from them.
When Credo started introducing new products like credit life insurance, agro insurance, agro/wish cards, to mention only a few, I got involved. In the beginning, I was only a team member, soon project manager and finally the Non-lending Products Unit Head. The latter was my first official managerial position, and I was responsible for cards, insurance products, paybox systems and core system support. Today all these directions in Credo are separate units/departments. When Credo became a Bank in 2017, the number of customers increased and with it the number of products. We faced numerous projects in each unit and created PMO to prioritise them and manage the roadmap. I moved to the position of Head of PMO after we decided to manage projects according to PMI standards. While working as a Project manager, I finally felt that I had found my dream job, so I have graduated from George Washington School of Business' Project Management course and in 2017 became PMP (Certified Project Management Professional).
Today, you are managing 16 people in the PMO department. Not so long ago, your department introduced Agile – tell us more about this experience and your team's challenges during the process.
The world is moving to digitalisation, and Credo is also moving forward with it. Project management should correspond to the needs of the organisation. I like that in Credo we never change anything just for the sake of change – we are responding to needs. That's why we started to manage digital products with Agile since it's considered a more effective way for product development. Agile is the best when you can create a product with minimal features (we call it MVP), give it to the customer and then improve it according to your customer's new requirements or innovative ideas. There's no need to define the final product from the start and wait until every feature is done before placing it on the market.
On the other hand, the organisation has change requests where the result is clearly defined, a one-time change/project, not product development. It may be regulation changes, non-digital product creation or procedure implementation. In this case, we work with the Waterfall method. That's why we have both project management methods in Credo.
Transition (I'll call it creating Agile teams) was complex but manageable. Considering Credo's organisational culture, which implies team spirit and equality, our teams didn't even notice that the Agile team hierarchy is different from the waterfall team.
As for the challenges, technical staff availability has become the main one due to the high market demand for digital product development. Today, it's even harder to get qualified staff and second, to secure their stay with us.
You are still adjusting and accepting the Agile; however, what can you advise those who embark on the journey to implement one of the Agile methodologies?
First, it should be a top-down decision – an organisation can implement Agile only if top management understands and entirely agrees with Agile philosophy. Trust on all levels is crucial – team members should trust each other and focus on their primary goal, and management should trust the team and give them the freedom to create solutions for the business problems and set goals. Any organisation can place teams in the shared space, implement Agile ceremonies, develop new roles and responsibilities, and fill the gaps with proper specialists – it is not that easy, but it is manageable. The actual complexity is with a mindset change.
The micromanagement and distrust that kill team motivation and an attitude that we do everything in frames of job description responsibilities have to change to a new one that promotes cross-functional teams and shared responsibility.
To achieve it – the organisation needs leaders who already think this way.
You joined Credo in 2004; looking back on your most valuable achievements, what is it that makes you incredibly proud?
I grew professionally with this organisation, believing that Credo's achievements are also mine and my teams'. It's hard for me to think about it from this perspective; however, I value most people who work here and consider them my friends. We are all like a family – we all trust and support each other – sometimes that goes even beyond business-related issues. When I travel through Georgia, I feel very secure because if anything happens on the road, I can call the nearest Credo branch for help, and someone will be there in no time – even if I do not know them personally. This is empowering, and one can only be proud to be a part of it.
How is Credo's pipeline currently looking? What are your strategy and priorities, and what can we expect from PMO to deliver this year?
Every new year is more challenging for Credo than the previous one – people who work here as long as I already have got used to it. We have eight squads; six work on purely digital products, one works on business process optimisation and one on the development of insurance loan products. They plan their pipeline quarterly according to their velocity. As for another team – where we use a flexible attitude of project management (waterfall, hybrid etc.) 7 PMs work on 60 projects simultaneously.
This year, Credo will introduce improved mobile and internet banking, new types of loans, cards, and new ways to transfer money between customers. We are developing products for merchants and emigrants considering their needs. Insurance loan products with our partner insurance company will allow our clients to access crucial products for their health and business. I think one of the best traits of Credo is that we never lose the focus on our segment and its needs. Improving business operations may look like a value for the bank only (less operational costs). Still, the final product benefits the customer because it reduces the time of getting service.
Due to Covid-19, Credo has applied a hybrid way of working – 50% of the Head Office staff is in home office for one week and then goes to the office the following week. How do you cope with this way of working? What would be the advantages and disadvantages you have identified so far?
For the first period, when the pandemic started, we all moved to the "home office", and the first impression was that we became more productive. Everybody was "there" (on Teams), and one could attend more than one chat meeting simultaneously; nobody "went home" after working hours. Since we couldn't go out, the only way to pass the time was to work. Then teams started to burn out, people became stressed. We have noticed that we were losing team spirit – we missed jokes that we made sitting together in one space, having lunch together, catching information that may not be directly addressed to us but could be helpful in our tasks. It wasn't easy to onboard new team members – we hardly recognised them, and they faced challenges adjusting to the team. One of the central values of Credo – teamwork – becomes difficult to hold on to. After some time, we moved to half time home office, half time office work.
How would you describe women's position in Georgia's business world, and more importantly, what is the situation in Credo? As a successful and accomplished woman, are there any pieces of advice you would like to give to the ones who struggle to advance in this world or to new generations preparing to enter it?
Being a woman in Georgia's business world has its pros and cons. My personal opinion is that men respect women in Georgia and never treat them as unequal. However, if a woman and a man apply to the same position, somehow, a woman is under a bigger microscope. Only after a woman proves that she is worth she is promoted and treated with respect – and the higher the position, the bigger the microscope. Thus, women need to work on themselves more in this respect. They need to prove sometimes things that are considered evident for men. Knowing and understanding this helps to be more prepared. I think, in Georgia, especially in Credo, if you are strong, confident, experienced, and have good interpersonal skills, there is no need to bother about your gender.
And, for the end, if you could choose situations or persons that have made you the person you are today, what would those be?
I can say that I'm a lucky person because I started my career in an organisation with a great leader. Leaders define the values and set standards for how organisations should operate. As the organisation grows, it attracts people with more or less the same values. Credo became an organisation where you can always share your ideas with everyone, and you'll never meet barriers. You are always supported to think outside the box, learn and create new ways of dealing with daily tasks.
Leaders, values, and challenging goals made me the person I am today.